The Rarest Kind – Just A Ride We're On (Official Lyric Video)
After nearly a 7 year hiatus from the music industry due to an unforeseen medical illness, Singer-Songwriter, Producer Tony Martino a Chicago, IL native is finally back with a brand new solo project called "The Rarest Kind." The debut album is set to be released in early 2018.
Prior to his hiatus, Martino had independently licensed numerous songs to television shows on MTV (Road Rules), Discovery Channel, and CBS (The Ghost Whisperer); was gaining national radio airplay around the United States; and had secured major press in publications such as the Wall Street Journal & New York Times, including a feature article written in the New York Times by the acclaimed Grammy/Oscar/Emmy-nominated songwriter Adam Schlesinger (and co-founder of the bands Fountains of Wayne & Ivy) in which he once praised Martino's music and described him as having "incredible potential" after meeting him and being handed a demo of his music after a rock concert in Chicago. Martino was also previously selected by ASCAP as one of only a dozen or so songwriters out of hundreds of submissions to partake in its prestigious Lester Sill Songwriter's Workshop.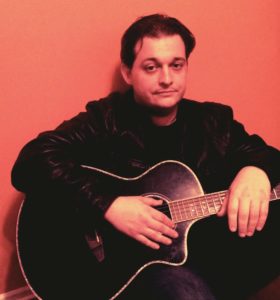 The first single for The Rarest Kind, "Just A Ride We're On", was written and produced by Martino (who plays almost all of the instruments on his recordings) and recorded in Nashville, TN. Acclaimed engineer/producer Mark Needham (Imagine Dragons, The Killers, Fleetwood Mac, etc.) mixed the song in Los Angeles. The song will also be featured on the upcoming album.
Buy/Listen: www.therarestkind.hearnow.com
Official Site: www.therarestkind.com
Facebook: www.facebook.com/TonyMartinoMusic